Special Needs Therapy and Service Animals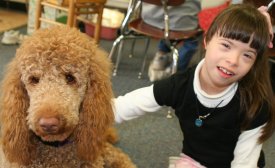 Therapy and service/assistance animals, such as dogs and horses, provide remarkable, long-lasting benefits for children with special needs or disabilities in so many ways.
Helping Paws for a Youngster with Cerebral Palsy
The touching true story of an assistance dog who becomes a special friend for a young girl with cerebral palsy. (Deborah J. Hall)
Special Education Helper with Four Paws and Curls
A remarkable therapy dog encourages communication and self-esteem in a special education classroom. (Donna Vaquer)
Considering a Therapy or Service Dog for Your Special Needs Child? Pros and Cons
These dogs can be a joy and a wonderful asset for children with disabilities, but the reality may be more complicated than you expect. (Deborah J. Hall)
Horse Therapy for Children with Special Needs
Therapeutic riding programs bring disabled children and adults together with horses in a world where disabilities can fade away, if only for a short time. (Linda Hubley)
Resources for Assistance Animals for Children with Disabilities
An annotated list of organizations for assistance animals (including therapy and service dogs and therapy horses) for children with disabilities.