Welcome to Children's Disabilities Information website
About the website and contact information
For more than twenty years, the purpose of the site is 1) to show what life is like with a special needs child and 2) to provide expert information and support for families who deal with this every day. It is a cooperative approach of parents and professionals.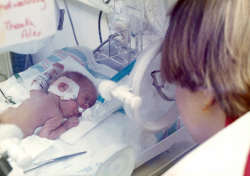 Personally, my life changed forever when my son was born extremely premature (weighing only one pound) in 1988. After his earlier struggles to survive, our family began the subsequent struggle of raising a child with multiple special needs, most of which are not obvious or well understood. As you know this is no easy task!
Since that time all three of my children and myself have been diagnosed with some form of special need. Over the past twenty years, as I investigated resources for each, I expanded the website. Along the way I have been deeply involved in online support, and have met many impressive parents and authorities caring for children who have special needs.
This website was created to help other parents of children with special needs, like yourself, with articles on topics that I have found to be helpful. Some of these articles have really made an impact for me and many others, and I hope they do for you as well. If you find this website useful, please share with others or link to the site.
If you are a professional, an author or wish to share your story I am glad to consider your article on parenting or special needs. Publishers and published authors who wish to submit review books are also welcome to contact me for interviews. I am sorry but I accept only a few self published books for review.
For information on advertising your product, store or service on our site, please write me for more information.
Allison Martin webmaster@childrensdisabilities.info
---