Special Education Helper with Four Paws and Curls
A therapy dog encourages communication and self-esteem in a special education classroom.
By Donna Vaquer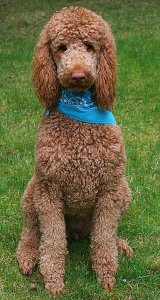 My Chloe is a timid, young Standard Poodle. She has a very sweet disposition and loves children almost as much as she loves dogs! I teach clay classes in elementary schools and Chloe began joining me when she was only a few months old. Soon she and I began doing more general pet therapy in classrooms, including a whole year in one second grade class (chronicled in the children's book series, Chloe is in Second Grade). Recently we began visits to special education classes called Life Skills classes.
Although Chloe dearly loves children, her innate timidity requires that the children be gentle and quiet around her. Initially this seemed as though it might be a drawback and reduce her therapeutic efficacy, but as it turns out it is a good thing. It helps teach the children to be calm and orderly, and really understand why good manners and behavior are important. Not one of them wants to scare Chloe, as they themselves do not like to feel afraid, so important "life lessons" like empathy and acceptance are learned naturally. In addition, they also learn important things about how to relate to dogs in general, and about animal stewardship and the need for all of us to take care of others.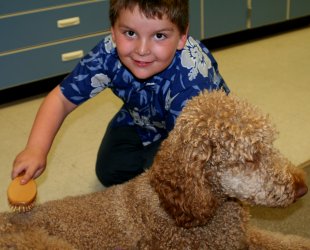 Our visits to the Life Skills classes involved mostly one-on-one visits between Chloe and the students. These visits usually start with the child petting her or brushing her with a soft brush. When the children are more familiar around her, we go on walks together, using two leashes and going first in the classroom, and later in the hallways. The students feel very important and special when they have this job. They decide where they want to go and they know that they must take care of Chloe. For some, this is one of the few times they feel that they are helping rather than needing help and self-esteem grows. We greet people along the way, and when we get back to the classroom, we report to the teacher what we have seen, so we are practicing a number of skills, especially communication. There is quite a variety in their reactions to Chloe's visits. Most of the children want to spend time with her, but not all.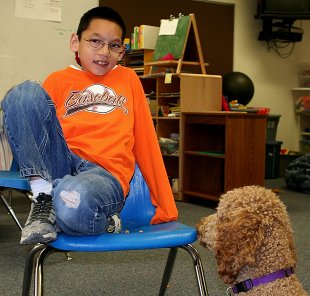 One boy named Sebastian was not at all eager to visit Chloe when we came to his class. I would always ask him if he wanted to visit with Chloe.. just to give him the chance to choose.. and he always said, "NO, no, no!" as he made himself very small in his chair. One day when I came in with Chloe, Sebastian immediately made eye contact with me, so I knew something was up. When I asked my usual question, "Who wants to visit with Chloe?" his hand shot up and he said, "I do, I do!" This was quite a surprise to all of us, and, of course, we rewarded him with an immediate visit. He still did not want to touch Chloe, but he threw treats to her as she sat close to his chair.
On our next visit, Sebastian took Chloe for a walk in the hallways. He wanted to go to the gym, and I soon found out way. The popcorn machine was there! Fortunately, it was busy popping, and the kind popper-woman supplied him with four bags of popcorn to take back to class with him. It is so difficult with non-verbal children to know their reaction to an activity, but I saw Sebastian make a conscious choice to do something he was afraid to do, plan to go somewhere exciting to him and share it with a new friend, and come back to class with a 'gift' for his classmates. My guess is that this had a huge impact on his self-esteem.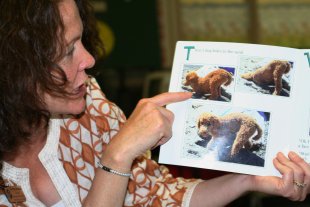 When the special education teacher read the children a story about Chloe, they were very excited to see 'their' dog in a real book. One boy kept asking how we got "those" pictures in that book. I can imagine making a simple book for them about their classroom showing them interacting with Chloe and plan to do so this fall. I know it would be popular and some of the students would be able to read it. Seeing themselves and their friend, Chloe, in a book would also stimulate many of them to take an interest in books, even if they are unable to read.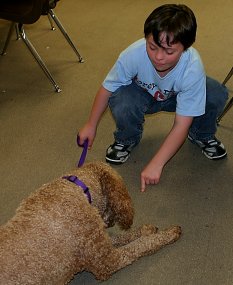 Finding ways to make books enjoyable for children is a challenge at times but when I made a similar book for an Autistic preschool I discovered that being involved in the process and the subject matter went a long way toward doing just that. It's quite simple and requires nothing more than a camera, a word processing program, and a local office supply store to put it in a spiral binding. If you don't know how to 'embed' the digital photos into the actual document , just print them and glue them into place and you have enough of a 'real book' for the children to enjoy. In addition, all involved tend to get feelings of accomplishment and pride too often lacking in such students.
A boy named Jack had a good visit with Chloe. His face lit up when he saw her and his big smiles got even bigger when he walked with her. Then he told her to 'sit'. What actually came out sounded more like, "Doe-ee, dit!" but he got the vowels right, and Chloe, bless her heart and her special dog's ability to understand things that many humans can't, sat. Then he told her to 'down' and when she did that too, his pleasure shone out like a bright light.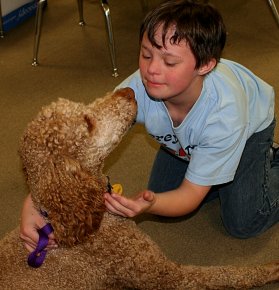 More self-esteem and eagerness to communicate are sure to accompany Chloe on future visits with Jack, Sebastian, and other children with special needs who are lucky enough to share time with her.
Success in learning really comes down to wanting to learn because we are happy and motivated. If school wasn't fun, what young student would choose to be there? I've been bringing dogs to class for about four years now, and I still love the gasps of pleasure and excitement from the students when they see a dog coming in the door. I always know we're in for a good time with a lot of learning included… learning that will be remembered for a long time thanks to a sweet, curly-haired friend named Chloe.
---