Parenting Special Needs Children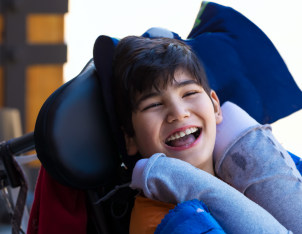 Articles and resources to aid in parenting children with special needs or disabilities
Special Needs Parenting Books
Reviews of recommended parenting books for parents with children who have special needs.
Also General Parenting Books
Reviews of books recommended for parents.
How to Raise a Child with Different Neurological Wiring
Encouragement for parents of children with autism, ADHD, learning difference, sensory integration disorder and other neurological issues. (Interview with Deborah Reber)
Raising Resilient Kids
Mark Bertin, MD, pediatrician and author of How Children Thrive, explains how parents can increase resilience in their children.
Raising Confident, Optimistic Kids with Special Needs
How to encourage children with special needs, despite the obstacles and pressure. (Foster Kline, MD and Lisa Greene)
Attachment and the Special Needs Child
The importance of attachment and bonding for children with special needs. (Dianne Maroney, RN)
Monitor Your Child in the Hospital
It is important to remain on watch when your child is hospitalized. (Dr. Laura Nathanson)
Siblings with Disabilities
Siblings experience their sister's or brother's special needs in a number of ways and at different levels. (Miriam Edelson)
When Your Child Has a Disability
Dr. Batshaw, George Washington University School of Medicine, provides informed expert advice to parents in this interview. (Allison Martin)
Does Your Child Have a Hidden Disability
Your irritation with your child may reflect a hidden disability. (Jill Curtis, Psychotherapist)
Living in My Skin
Speech pathologist Lori Hickman explains that professionals, family members, friends, communities and churches often do not understand the needs of parents of special needs children, in this interview. (Allison Martin)
For Families of Children with Special Needs
Coping with the news that your child has a disability. (Jill Curtis, Psychotherapist)
Special Children - Challenged Parents
The struggles and rewards of raising a child with a disability are explored in this interview with Robert A. Naseef, Psychologist (Allison Martin)
Battle Cries: Children with Disabilities are Marginalized in Society
How can parents and special needs advocates encourage full inclusion of children with disabilities? An interview with Miriam Edelson. (Allison Martin)
Acceptance
A mother of a child with multiple handicaps shares her waiting room thoughts. (Carolyn Murray)
Attachment and the Special Needs Child
The importance of attachment and bonding for children with special needs. (Dianne Maroney, RN)
No One is an Island - Parent Support Groups
Support groups are valuable for parents of children with special needs. (Pat Linkhorn)
Getting Your Kids To Cooperate
End the nagging with this advice on motivation and compliance. (Elizabeth Pantley, Parenting Expert)
Preventing the Contagion of Stress
Causes of stress and how to keep it from spreading. (Carl Pickhardt, PhD)
A Day in a Life of Handicapped Child
The same disability that eases one worry creates another. (Carolyn Murray)
Diagnosis
A father considers the implications of his son's diagnosis of special needs. (Jeff Stimpson)
Another Monday? A humorous look at life with a child with special needs. (Pat Linkhorn)
Elizabeth .. A Christmas Blessing
A parent shares her experience of birthing and raising a child with profound disability. (Lisa Saunders)
Strategies to Bolster Self Esteem
Suggestions for coaching your child to a strong and stable self-esteem. (Dr. Steven Richfield, Child Psychologist)
The R Word
A father's reaction when he is told his son may have mild mental retardation. (Jeff Stimpson)
The Impact of a Disabled Child on the Family
The birth of a severely disabled child has serious impacts for the family. (Miriam Edelson)
Profound Disability: Thought on Loving a Helpless Child
Loving a helpless child is a blessing. There is always something appealing, and interesting, about every person, if you look hard enough. (Rosemary J. Gwaltney)
Elizabeth.. A Christmas Blessing
A mother shares her feelings of her child's struggles. (Lisa Saunders)
Helping Your Child to Sleep Through the Night
Learn how to cope with common sleeping problems in this interview with Dr. Jodi A. Mindell, PhD, Pediatric Clinical Director Sleep Disorders Center at Allegheny University (Allison Martin)
When Your Child Craves Attention - A Parenting Strategy
A psychologist offers assistance for attention seeking behavior. (Tim Francis, Psychologist)
Toddler Discipline
Practical advice for parents of toddlers, from a parent education specialist. (Kimberly Meehan, Parent Educator)
See also:
Long Term Care Needed for an Increasing Number of Families of Babies With Special Needs
The number of children who need specialized equipment and intensive medical intervention at birth is on the rise. Sadly, once a family walks out the hospital door, practical supports are in short supply. (Miriam Edelson)